"Leading the way for a generation of diverse student in STEM"
Background image: EOP STEM full logo
Am I EOP STEM?
EOP STEM is open to all EOP verified students who are declared or intending to declare in the STEM fields.
After completing the application, you will be a part of EOP STEM and have priority access to our services and resources listed below. We welcome you to join our EOP STEM family!
Who Are We?
In 2014, the EOP STEM Program was created in order to bridge the needs of historically underrepresented students in the Science, Technology, Engineering, and Mathematics fields. By providing one on one support (through the Mentorship Program), leadership opportunities and guidance (through our company visits, the STEM Series, and the Exposure Conference), we aspire to help the next generation of leaders to accomplish their goals and cultivate a new definition for students in STEM.
Take a look at our upcoming events!
Previously Recorded Events/Workshops
Recorded Video Link: Here
The Career Center Counselor will be discussing the general grad school timeline, grad program/financial aid resources, general grad school requirements, application, letter of recommendation, and more!
STEM Campus Resource Panel
Recorded Video Link: Here
On September 28th, we welcomed some of our amazing campus partners to host a STEM Campus Resource Panel that will go over their services and resources. Panelists include representatives from Biology Scholars Program (BSP), CalNERDs, Career Center, and Society of Women Engineers (SWE). Please join us!
Recorded Video Link: link here
We had the pleasure of having Mitzi and Gustavo, EOP and EOP STEM Alumni (also part of the founding EOP STEM team), share tips and advice on how to use your identity to sell yourself and get referrals, networking, and interview opportunities.
Friday, November 20th - 4pm
Recorded Video Link: link here
Join EOP STEM and MiMentor to learn more about their program and mentorship opportunities within the health care industry!
Resume and Cover Letter Workshop
Recorded Video Link: Here
The Career Center Counselors hosted this Resume & Cover Letter Workshop to talk about tips on how to improve your resume/CV come. They also highlighted their writing service and hosted a Q&A.
Recorded Video Link: here
On September 8th, we welcomed our incoming frosh and transfer students! We shared information about our EOP STEM Program and resources. In case you missed it, feel free to watch the recorded session!
Undergraduate Research Workshop
RECORDED VIDEO LINK: link here
Peer Advisors from the Office of Undergraduate Research and Scholarships hosted a workshop on tips, tricks, and their experiences working in undergraduate research!
CHECK OUT OUR PROGRAMS!
- iClicker Rental Program -
Do you need an iClicker for this Spring 2022 semester? 

EOP STEM is collaborating with the Student Technology Equity Program (STEP) and Student Technology Services (STS) to offer a one-semester loan of physical iClickers on a first-come, first-served basis. EOP STEM has iClickers that are set aside specifically for our EOP/EOP STEM students. Please note, we have a very limited inventory of iClickers and they are distributed on a first-come, first-serve basis. Feel free to read more about the lending program on their website
To apply to rent out an iClicker, please complete this application: 
The EOP STEM Mentorship Program is a year-long program (Fall and Spring terms) open to students who are interested in becoming a mentor or mentee. This mentorship provides student-to-student guidance to support first-generation, low-income and historically underrepresented college students in the STEM field to help them succeed at UC Berkeley. Prospective mentors and mentees may apply in the Summer and end of Fall each year.
We've closed our application for Spring 2021.
Be on the lookout in May for another opportunity in Fall 2021 :)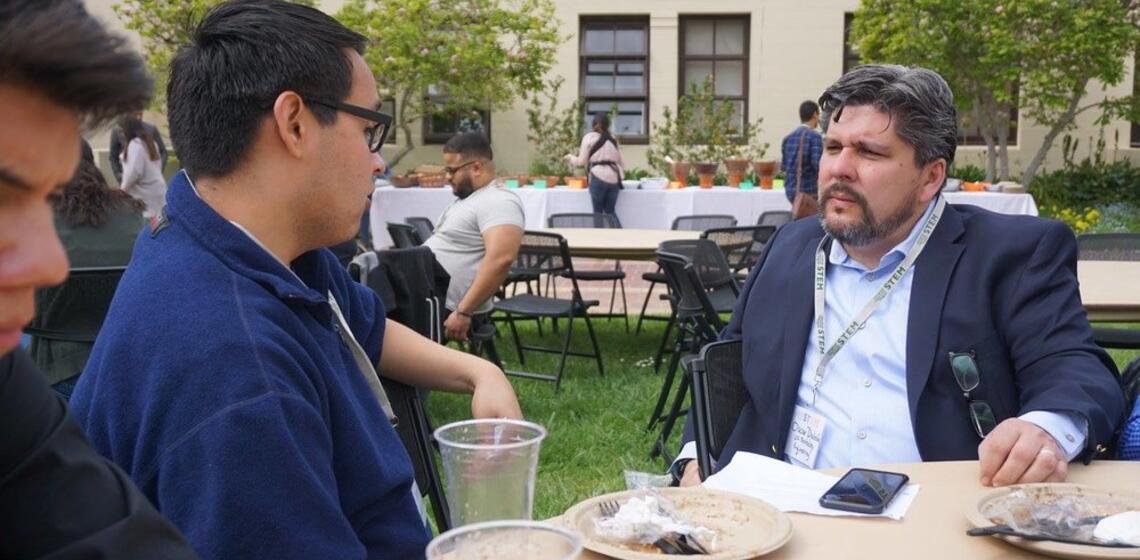 Every semester we have company recruiters or professional school representatives visit campus to hold informational sessions and professional development workshops. Additionally, every semester we visit companies at their headquarters for a free company tour and diversity professional panel. Companies we work with include Dropbox, Facebook, Google, Kaiser, Pinterest, Airbnb, Youtube, UCSF, and more.
Stem Series & Company Visits
SSS-STEM Scholars Program
This Fall 2020, EOP launched our brand new, federally funded program called SSS-STEM Scholars. We invited a group of almost 90 students to participate in this program, which is meant to support them on a more intimate, cohort-based level throughout their entire time at UC Berkeley. Our STEM Scholars have access to meeting a team of our EOP Academic Counselors, tailored workshops/events, and more!
SSS-STEM stands for Student Support Services - Science, Technology, Engineering, and Mathematics. The SSS-STEM Scholars program is a federally funded TRIO program designed to improve retention, graduation, financial literacy, and overall academic success rates for students majoring in Science, Technology, Engineering, or Math fields.
UC Berkeley's SSS-STEM Scholars Program helps meet these goals by providing academic and engagement activities for qualified students throughout their enrollment at Berkeley. This program is fully funded by the U.S. Department of Education.
Feel free to take a quick glance at what our program provides!