First-Generation College Celebration 2022
Background image: eop students and staff attending the first generation college celebration
We Celebrate You
On Monday, November 8th, universities nationwide will be honoring NASPA's National First-Generation College Celebration! You may wonder, what is national first-generation day and why celebrate on November 8? National first-generation day is an invitation to celebrate our resilient community of students who are the first in their family to pursue a four-year undergraduate degree in the United States. November 8 was identified as the date for the annual National First-Generation College Celebration to honor the anniversary of the signing of the Higher Education Act of 1965. Join us in advancing an asset-based national narrative on the valuable and rich contributions our first-generation students add to university settings! 
How is EOP celebrating?
UC Berkeley's Educational Opportunity Program (EOP) has planned a 1-day wellness celebration for our first-generation students on Tuesday, November 8th!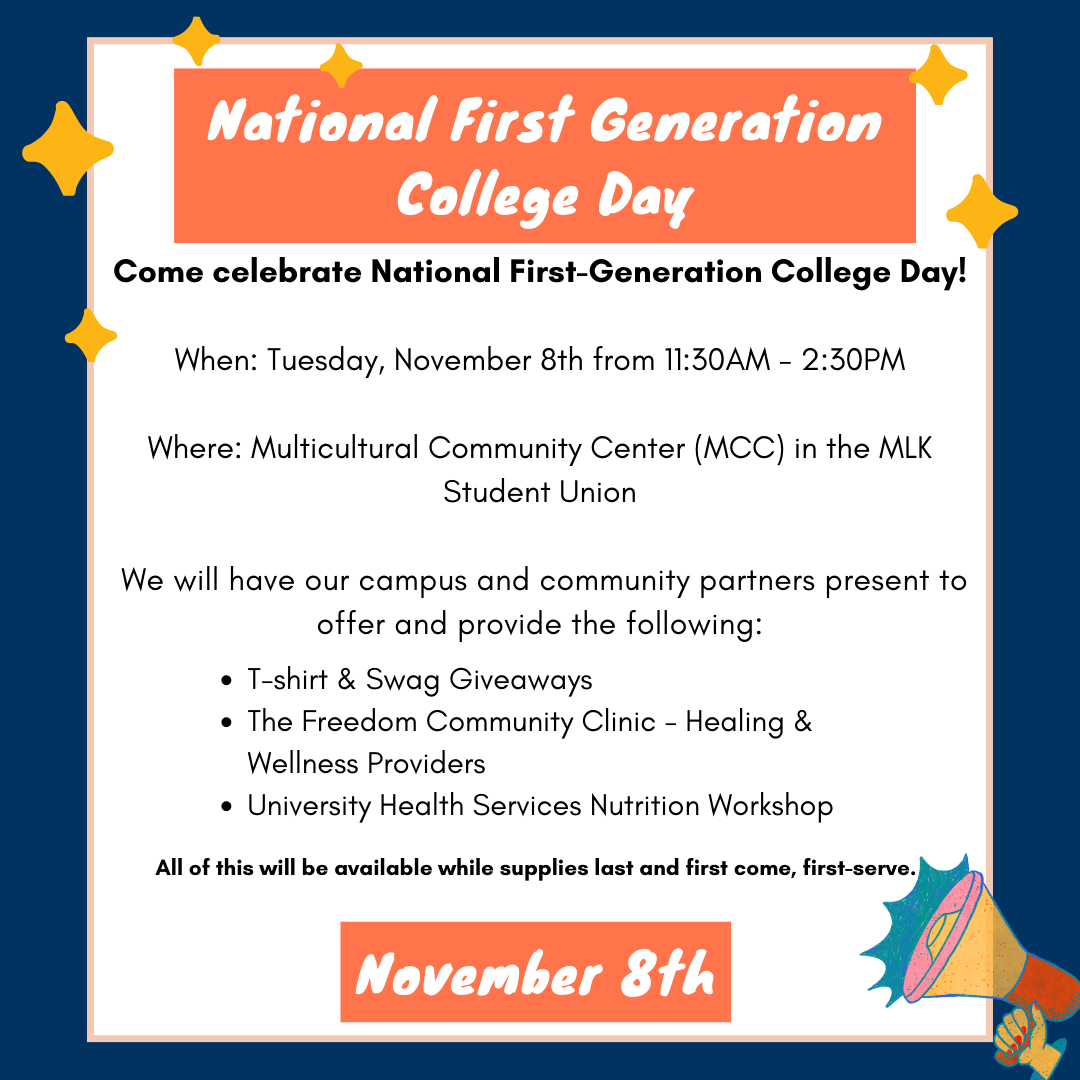 A Message From The Chancellor
As Chancellor of UC Berkeley, I am happy to be part of the First-Generation College Celebration taking place across the nation this week. It is a time set aside to celebrate the students, staff, and faculty who are part of this talented community. I am inspired by your determination, focus, and accomplishments.
Being the first in your family to pursue a four-year undergraduate degree in the United States takes vision, sacrifice, and courage from you and your support systems. Please know that you are not alone on this journey. More than a quarter of our undergraduate students – 8,211 students - are first-generation and many faculty and staff share this experience as well.

The Educational Opportunity Program was the first of its kind in the country to provide guidance, resources, and opportunities for first-generation and others historically underrepresented within higher education. Through their holistic advising and counseling, workshops, and social gatherings, students are supported in building new communities of support and developing friendships and professional relationships, some that will last a lifetime.
EOP is more than a program. The staff understands much of what our students are experiencing. They have been there - six out of the seven are "first-gen" alumni themselves. For many students, EOP becomes their family away from home. This is especially important this year as we continue to practice social distancing. Now more than ever, being part of a community helps us stay connected and healthy.

I invite you to join some of the many offerings this week and also to explore the vast resources available at Berkeley to support the journey of our first-generation students. You are a valued member of our campus and we are thrilled that you are here.
Memories from 2019 & 2020 First-Generation College Celebrations
First-Generation Student, Staff, & Faculty Profiles