Graduation Gown Lending Project
Background image: EOP students wearing their caps and gowns at UC Berkeley
Graduation can be a very exciting moment for many of our students, but for some, the cost of buying a graduation gown is another expense that impedes them from fully experiencing the culminating moment of their academic achievement. The Educational Opportunity Program has created the "Graduation Gown Lending Project" to support first generation and low income UC Berkeley students with free rental of graduation gowns. 
Conceived by EOP Peer Academic Counselors, this project was created to help alleviate some of the hardships of graduation expenses. We appreciate any and all gown or monetary donations. With your help, we can ensure low-income students experience the special graduation day they have worked so hard to earn.
---
Application Process:
The Graduation Gown Lending Project is a service that is only offered to students that are EOP. In order to qualify for the project, a student must either be 1) Low-income and/or 2) First Generation and/or 3) Historically Underrepresented. If you fall under one of these categories, then you can apply for this service! Unsure of EOP status? Stop by the EOP office in 119 Cesar Chavez to be verified by one of our counselors or apply to be EOP here.
*Sometimes students are EOP but may not in our database. That's okay! Just check in 119 Chavez to be verified and inputted into our system.
Students that apply to the project will be verified if they are EOP by the GGLP team. Students will be notified within two weeks of applying if they were accepted or not.
---
Spring 2023 Application Paused
Unfortunately, the Graduation Gown Lending Project  is currently working on rebuilding inventory will not be able to provide a full range of services for the Spring 2023.  
We sincerely apologize and recognize that these are challenging times filled with a wide range of emotions. We honor and celebrate the major accomplishments you've been able to achieve, and hope to celebrate them with you once we're able to. 
---

EOP is excited to partner with CAPGOWN.com to offer Premium UC Blue Regalia to Ph.D. graduates. CAPGOWN is providing qualified graduates with their Doctoral Regalia Set free of charge through their Charitable Initiative. Graduates will be shipped a UC Blue Gown, Ph.D. Hood, and UC Blue Silk Tassel Tam with shipping both ways. You may learn more about the CAPGOWN Charitable initiative HERE and view the UC Rental Set HERE.
---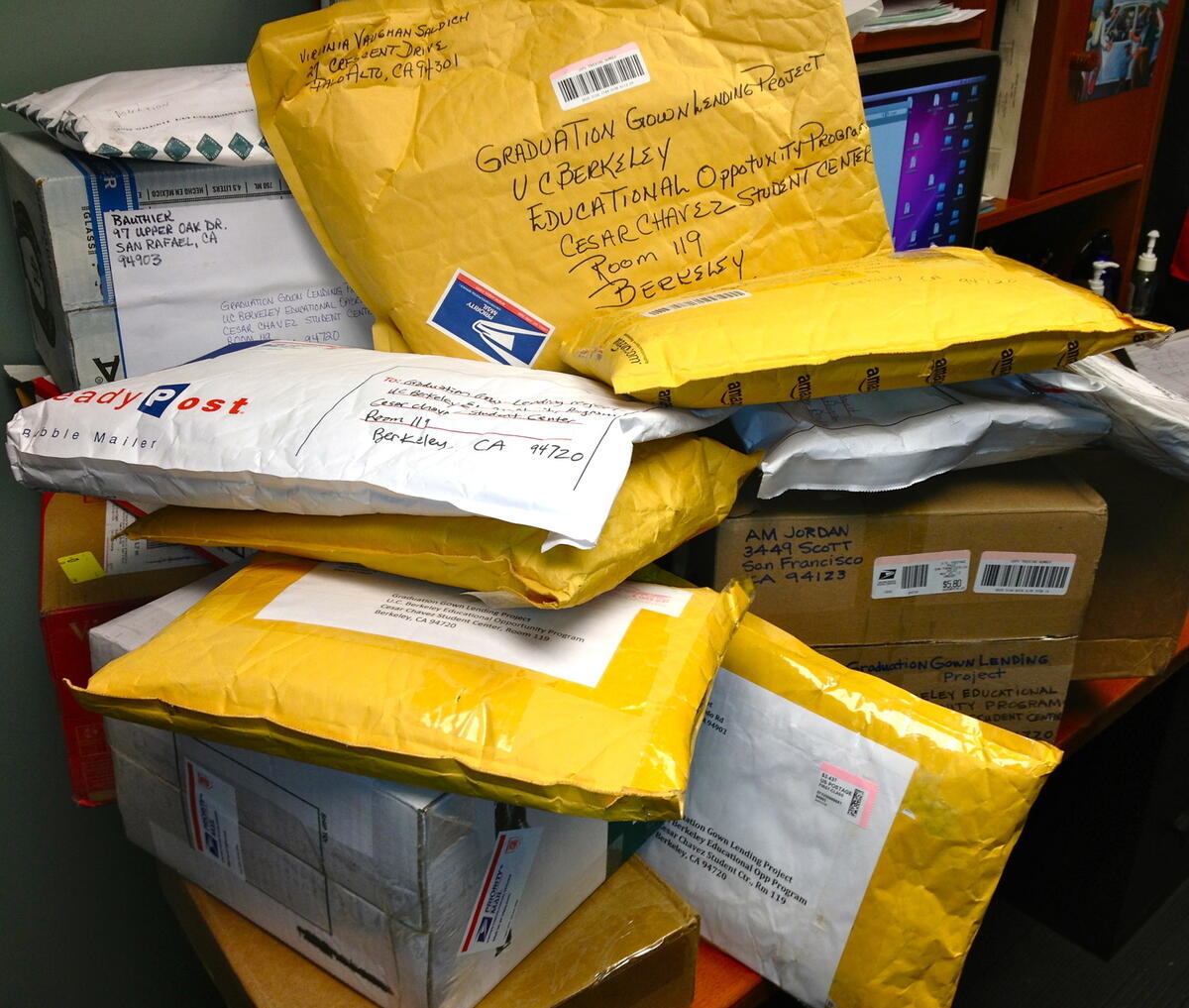 Program Launch
Thanks in large part to a gift from the University Section Club, the Graduation Gown Lending Project launched in Spring 2013 just in time for year end ceremonies. Alumni and community sponsors also provided support that resulted in over 100 cap and gowns being lent to students. We received more applications than we could accommodate so we still need your support! 
The GGLP has been featured in the UC Berkeley Newscenter and the SF Chronicle.  
If you wish to provide a new or excellent condition cap and gown instead of making a monetary donation, please drop off or ship the item(s) to:
Graduation Gown Lending Project
UC Berkeley Educational Opportunity Program
119 Cesar Chavez Student Center
Berkeley, CA 94720-4210
Questions? Email eop.gglp@gmail.com or call all 510-642-7224.